The title sounds a little spooky....
Today I found some rare free time and while researching strobe photography I ran across a YouTube video demonstrating what they called levitation photography. What it ends up being is taking a photo at a fast frame rate allowing action to freeze giving the impression someone or thing is floating in air.
Sounded like fun so I gathered 2 volunteers and headed for the back yard. The technic is very much like shooting sports and freezing motion except that it is staged. I decided to see if we could make the kids fly around the back yard on broom sticks. Sort of like Harry Potter ish.
Timing is the key. They saddled up and on the count of 3 jumped. With a little coaching on pulling the legs up and leaning forward, the tongue was all Mikaila, we got these shots in less than 15 min.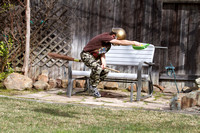 Test one to get the look Gabe needed to lean forward a little while jumping.
Mikaila's test jump
Now for the timing shot I counted to three and got this on the second try.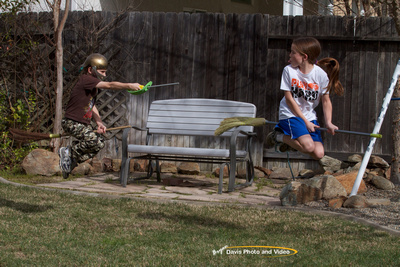 Had to share this with some friends and Craig over at FPS Photography did a great job of extracting the subjects out and placing them in the clouds.
This can be easily duplicated with most cameras.
Now To let the creativity flow and see what else can be levitated.
Bryan